Thai Information
Text Size
+ Larger
|
+ Smaller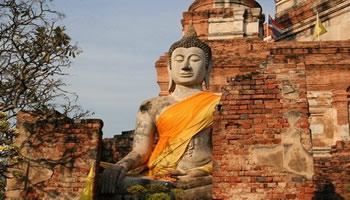 Thailand was known for centuries by outsiders as SIAM. It is the first real impression on the West at the end of the 17th century, through the reports of a series of inquisitive Frenchmen. However, they were not the first Europeans to spend time in the kingdom. The Portuguese sent an envoy to the Capital in 1511, shortly after they seized Malacca. They joint resident Chinese, Japanese, Malays and Persians to make the Siamese capital one of the most cosmopolitan cities in the vast region now known as Southeast Asia. Modern and predominantly Buddhist, it is the Southeast Asian kingdom whose ancient equilibrium and present standing mingle in evolving harmony.
Substantially, Thailand's distinctive and unparalleled characteristics stem from Indian and Chinese influences (harmoniously blended by Thai eclecticism), rich ethnic diversity, abundant natural and human resources, and over seven hundred years of cherished independently (Thailand is the only important Southeast Asian Countries never to have been colonized by Westerns). Thai traditional culture is delicately tuned to the time honoured Buddhist's non-confrontational approach to life, and ideal of charity, tolerance and loving-kindness.
Please pay more attention. Visitors To Thailand is not responsible for any error of other websites or third party.