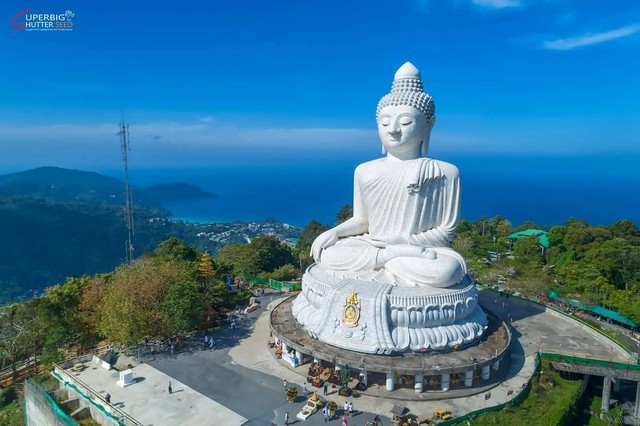 Formerly, officially known as "Pra Buddhamingmongkol Ake-Nakkiri" and now called the Mingmongkol Buddha Image. It is still referred to as the Big Buddha by everyone in Phuket. Sitting serenely in the meditating posture and on a dominant hilltop between Karon and Chalong it overlooks Chalong Bay and far beyond. So dominant is the Big Buddha that it can be seen from many of the southern parts of Phuket Island as well as nearby islands. (See Phuket Island Map)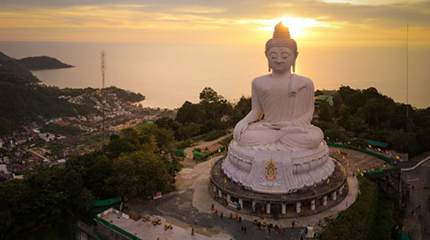 At a height of 45 meters and width from the base nearly of 25 meters. It is completely covered in white Burmese marble tiles which signify purity. The base of the Buddha is wrapped in giant white marble covered lotus leaves which means love and happiness. It is the largest white marble Buddha Image anywhere in the world and has already become popular and famous attractions for tourists and to be a place of significance for local people and everyone who visits from other regions in Thailand. A smaller Buddha Image was made from 22 tons of brass and 12 meters high sits along side the Big Buddha and joins the many other statues, images sculptures and bells of worship. Big Buddha was constructed in devoted to the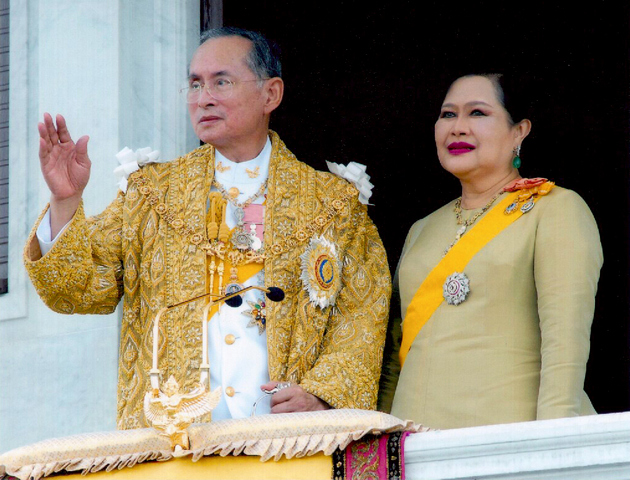 King of thailand, HM King Bhumibol adulyadej's 80th birthday and the smaller Buddha in devotion to the Queen, HM Queen Sirikit. Completion is not far away and will eventually include a 7 hectares "Buddha-Utthayan" or Buddhist garden landscaped with rock features, grassed areas, flowers, shrubs and natural environment. It will be designed for peace, relaxation and meditation.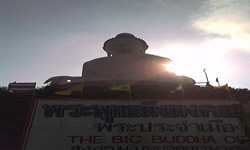 Some say that the early morning is the best time to visit Big Buddha, with cooling, sometimes cold winds you can watch the sun rising across Chalong Bay and the beauty of the sun reflection in calm seawaters. Looking from the other side of Chalong Bay it is an awesome inspiring sight to watch the sun slowly setting behind Big Buddha, slowly forming a silhouette of this remarkable image as its features are darkened.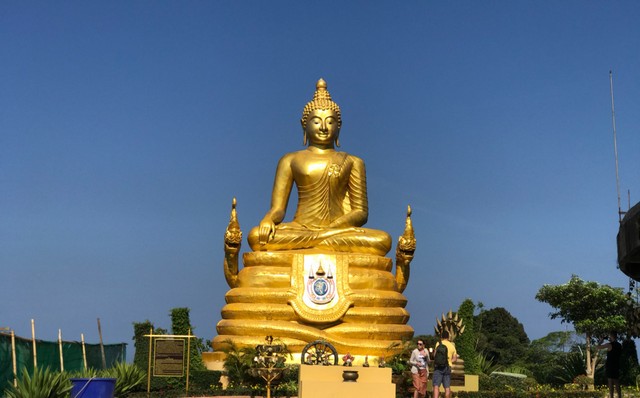 Big Buddha is atop a 400 meters hill offering spectacular views of Phuket Town, Chalong Bay and the islands beyond. It is found by following the signs along Chaofa West Road on the left side just over 2 kilometers north of the Chalong Circle or if traveling south less than 1 kilometer, passing Chalong temple on the right side, look for the ample signs. As the crow flies it is 3 kilometers to the Big Buddha from Chaofa Road, the road is fairly steep in parts but concreted or sealed so perfectly safe.
This is the a Buddhist temple and the usual rules of modest dressing, strict respect for Buddha images must be observed and please remove your shoes in areas where you see others removing theirs. At the end of the main reception area you can (after removing your shoes) approach the seated monk, try to make yourself at a lower height than him by stooping or shuffling along on your knees "Watch what Thais do and do the same", you will then receive a special blessing, and a charm to tie on your wrist. Do remember that female can not receive this charm directly from monk, he will place it in front of you or ask some male to give it to you. And if you got now the blessing from monk, you should know something about the 2,500 years old Buddhism. The Buddhism monks are learning to see things as they are and not as they should be, to split yourself from illusions and expectations to get a better human.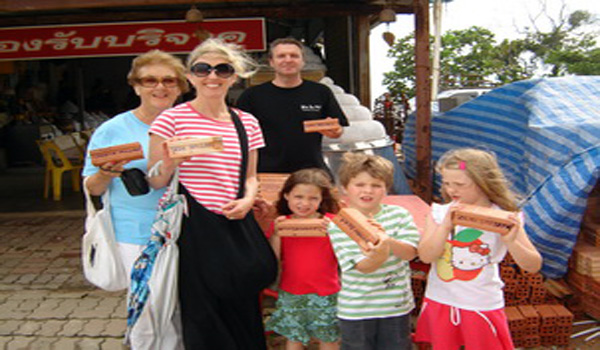 Work on this simple thing and every day will be your day. Only a short information at the end. The total amount of the building was made from donations and if you enjoy your visit, then show your gratitudes, drink two bottles of beer less in the evening and give some donation in the next morning in the boxes around. Otherwise write your name or family's name onto the backside of a marble plate which will be covered on the base of the BIG BUDDHA. (Why I have to write my name or family's name?--that is a visitors' normal question.) Tell you, visitors, the truth, why ancient Thai people had to write the name or family's name on the backside of bricks, roofs, roof's bells or big bells. They had some belief and idealism as follows:
| | | |
| --- | --- | --- |
| Material | Belief | Idealism |
| Bricks | to give a brick for building a Buddha's base or Buddhist temple will do a life of offers are stable. | Thai people desire to write the name of given bricks because passerby will do pay respect on their names though they were pass away. |
| Roofs | to give a roof for roofing a Buddha's temple or temple will do a life of offers are peaceful. | Thai people believe that wrote the name of given roofs will protect and look after the Buddhism and Buddha Image |
| Bells | to give a bell for hanging on a Buddha's temple roof will do a life of offers are famous. | Thai people believe that wrote the name of given bells will do the Buddhism and Buddha's temple or temple are not deserted. |
| Big Bell | to give a big bell for temple will do a life of offers are famous oversea. | Thai people desire to write the name of given Big Bell because they wish to be an angel's sound to wake monks up for morning praying before sun-rise. |