Bangkok, the City of Angels, is Thai Capital City and gateway of Asia which was founded by King Rama I (Phra Buddha Yodfa Chulaloke Maharaj) in 1782. The capital is located at the geographic centre of the country and on the banks of the Chao Phraya River, "River of Kings", which rises in the hills of the North and flows through the flat central plains on its way to the sea in the Gulf of Thailand. Actually, Bangkok is made up of two words, namely,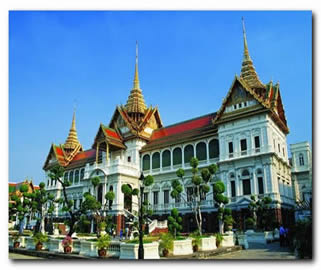 "BANG" and "KOK" meaning "VILLAGE" or DISTRICT"; KOK means wild "OLIVE FRUITS", Respectively, thus, it means the "VILLAGE of OLIVES" which was formerly just a small fishing village. Usually Thai people call their capital by its short form "KRUNG THEP" which means "CITY of ANGELS". In fact, the capital's official full name is " Krungthep, Mahanakhon, Amorn Rattanakosindra, Mahin tharayudhaya, Mahadilokpop, Noppharat Rachathaniburirom, Udom Rajanivet Mahasathan, Amorn Pimarn Avatarn Sathit, Sakkathattiya Vishnukarm Prasit" which may be translated in English as follows: "The City of Angels, the grand City, the Residence of the Emerald Buddha, the Impregnable City (of Ayuddhaya) of God Indra, the Grand Capital of the World endowed with the nine precious gems, the Happy City, abounding in enormous Royal Palaces which resemble the Heavenly abode where reigns the Reincarnated God, a City given by Indra and built by Vishnukarm" Due to its over a hundred Romanized letters, the capital earns a listing in the Guinness Book Records as the World's longest place-name.
Bangkok is always the heart and soul of the Thai nation as it is a place where the Royal Family resides, the seat of government and administration, and the commercial centers. Above all, it is a place where the principal royal temple (WAT PHRA KAEW or the Emerald Buddha Image Temple) and other leading temples are situated.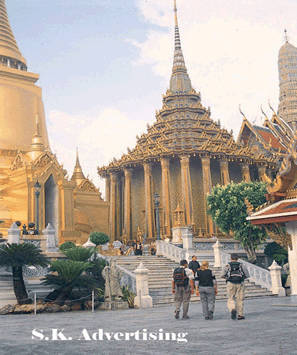 The capital itself has a remarkable wealth of historical and cultural attractions which cannot be easily found in other parts of the World. Formerly, the capital was widely known as the "VENICE of the EAST" unfortunately the demand for more and wider roads and streets have resulted in the disappearance of several canals. Its steady growth leads to the expansion into surrounding paddy fields and orchards and, at the same time, forces the buildings to rise higher and higher. However, Bangkok's still remains as one of the World's most exciting and interesting cities to visit.
Bangkok is a metropolis of sightseeing attractions by day; however, at night descends, this amazing city takes on a new look. The face of flashing lights and neon signs calling the visitors. Into the twilight zones that is Bangkok's entertainment industry. Although Bangkok has gained itself a reputation for its "nightlife" in terms of equity, there is actually much more to the night-scene than meets the eyes
In terms of family entertainment several restaurants offer a set Thai dinner accompanied by Thai Classical Dancing with exhibitions in the Art of Thai Boxing, Sword Fighting, Colorful Cock Fighting, etc. The night clubs feature live bands and international floor shows for those who love to dance, discotheques a part of most hotels. Bangkok after dark is experiencing you surely won't forget and hesitate to get out and see it for yourselves.
We wish you enjoying pleasant and amazing traveling in Thailand