• Adventure Sports
Phuket is one of Thailand's most well-equipped tourist destinations and as a result, the adventure sports arena is first-rate. Some of more the predicable opportunities include elephant trekking in the back jungles. However, the more modern adventure may wish to hire an ATV and take a guided tour across forested hill or to remote beaches. A licensed bungee jump operator is located in Kathu, and there is shooting range in Chalong. Tamer sports like go-karting are also available. Anyone craving a surge od adrenaline should have no problem satisfying that need in Phuket.
• Gibbon Rehabilitation Centre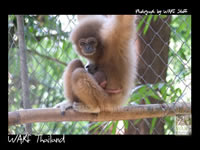 The Royal Reserve at Bang Pae is home to more that just a lovely waterfall. Visitors who come for a refreshing dip in the cooling ponds of the falls may also catch sight of one the gibbons that live on this land. The initiative to rescue caged gibbons and reintroduce them to this land has been successful with three families so far, and their distinctive voices can be heard in the forest.
• Water Sports
The Andaman Sea is a great host for relaxing excursions at sea. The clear and calm waters are a wonderful setting for snorkeling and scuba diving. For outings above water, visitors can rent a banana boats, jet-skis and sea kayaks. For those who long to sail, there are charter boats, dining cruises and fishing trips to join. Parasailing is another water sport available for those with an added taste for adventure who want to gain a new angle on the island.
• Waterfalls
Phuket is home to three waterfalls that make for great excursions. Bang Pae is on site at the Gibbon Rehabilitation Fund, and so visiting this location allows the added benefit of catching site of a rare gibbon. Kathu Waterfall is situated in land and makes a great layover spot for a swim in on of the ponds at the top or a scenic picnic at its base. Ton Sai is the smallest of the waterfalls set with picturesque ponds and tall palm trees.
• Island Hopping
Arcing out into the Andaman, the archipelago that extends onward from Phuket is well-worth a charter day-trip or even an overnight stay. These beautiful islands offer all sorts of getaway opportunities ranging from diving and snorkeling to relaxed sightseeing from the boat or on the land. Some, like the Similan Islands, are primitive and undeveloped, though it is possible to charter an overnight boat with sleeping accommodation on board. More developed islands like Phi Phi and Lanta Islands are outfitted with accommodations and more modern amenities.
• Shopping
Shopper bound for Phuket will find the bulk of the island's market and night bazaars in Patong. All manner of products can be found here including ceramics, jewelry, custom-made silk and cotton clothing. Antique shoppers will enjoy browsing the shops, and standard souvenirs can all be easily found. Most goods are reasonably priced, though the touristiest areas may require a little polite bartering.
• Promthep Cape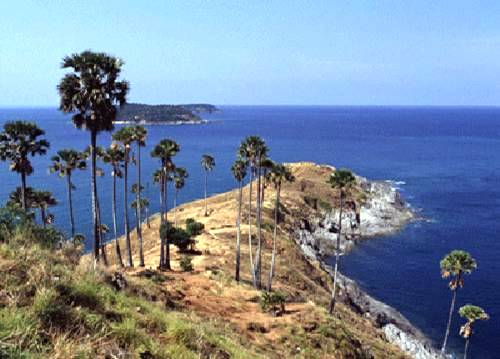 The southernmost spot of Phuket is Promthep Cape, home to a couple of famous structures. one is a statue in honour of the Thai prince who found the country's first school of modern navigation in the 1800s and the other is a merit-making shrine that is covered in elephants of many different sizes. Most tourists come for photogenic scenery and the spectacular sunsets.
• Eating Out
Fresh seafood enhances the already superb Thai cuisine ready to eat at Phuket. Restaurateurs will find authentic Thai food, usually prepared with less spicy chillies that what found in normal Thai cuisine. International cuisine is amply available as well, with every imaginable variety available across the touriest areas. The best international cuisine is found in the resort areas and at five-star restaurants, while authentic local food is easier to find farther inland where tourists don't venture with as much frequency. Click here to see the list.
• Temple
Visiting a temple, or Wat, is one of the most enticing ways to learn about the local history and religious heritage of Thailand. It's important to respect these sacred sites by wearing long pants and keeping your shoulders covered, and most Thais will be pleased to see you taking an interest in their local religious customs. While there are several wats on the island which are worth investigating, the most popular is probably Wat Chalong, which has a unique and modern style with large murals and ornate pagoda.
• Thai Kick Boxing
Muay Thai, the Thai version of kick boxing is a form of combat that has been passed down through the generations for centuries and has achieved global status as one of the most effective fighting styles in the world. Muay Thai training gyms are located in Chalong, Rawai and Phuket Town, and people flock to Phuket from all over the world to study this rigorous discipline from the masters. Spectators can watch fights on Friday nights in Phuket Town.