Pai Iyara Resort Site | Deluxe Garden Villa | Deluxe Garden Twin Bed | Family Suite Villa | Deluxe Villa Scene View | Contact Us | Booking Now!! | Map



Pai Iyara Resort is alternatively choice for your indulgence. It is remote away from Pai's town just 3 kilometers.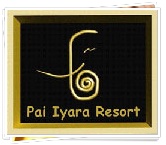 129 Moo 1 Thoong Yao sub district, Pai district, Mae Hong Son province 58130, Thailand
Tel.:+6681 540 72 57, 6680 674 4873
Among green tropical rain-forest mountains and odor of rice fields in a natural surrounding. We, Pai Iyara Resort, is ranking a 3-star resort on Pai district, Mae Hong Son province. As mentioned above, Pai Iyara Resort is one of a private accommodation with full of facilities and amenities waiting for serving all visitors around the world. We serve all visitors as if home sweet home which is fresh, quiet and safe atmosphere. Including decorative style of the resort, we are combined with modern interiors but unambitiously styles. It is the most suitable for travelers who wish to escape the hustle of the city into the nature closely. Each villa will have a private balconies for impressing a beautiful view of both mountain and rice fields right away.
In addition, we, Pai Iyara Resort are offers services tent courtyard for camping, all back-packers can pick a great wide of ranges to tent. In the ranges of tent courtyard is plenty of personally selections such as in local fruits garden, beside big swimming pool. For visitors who come to Pai Iyara Resort to camping, the resort offers many public bathroom with hot and cold water servicing all visitors for the conveniences.
Pai Iyara Resort's Gallery
Deluxe Garden Villa


All villas are furnishing with air-conditioned, cable TV.,
DVD Player, Hot-Cold Shower, Internet Wifi


Family Suite Villa

Deluxe Garden Twin Bed

Deluxe Villa Scene View
© since 2009 S.K.ADVERTISING. visitorstothailand.com. All Rights Reserved.
41/1 Moo1 Soi Inroong Sukhapibal Road, Bangsrimuang sub district, Muang Nonthaburi district, Nonthaburi 11000, Thailand.
Telephones: +662 447 4915 Fax: +662 882 7474
firstpage | hotels | maps | embassies | airlines | seas | dining | journey | about us